Food production inevitably leads to food waste. A significant portion of food from restaurants and other food service establishments is wasted each year in the United States. Restaurants that follow the Environmental Protection Agency's Food Recovery Hierarchy help to prevent and divert food waste.
How much food waste occurs?
The amount of food waste that occurs in the United States is staggeringly high. According to the USDA, approximately 30 to 40 percent of the food supply is wasted at the retail and consumer levels. This equates to about 133 billion pounds and $161 billion worth of food.
Society bears the consequences when large amounts of food are wasted. Instead of feeding impoverished families, wholesome food is sent to landfills. Discarded food also goes through a process, one that wastes valuable resources and energy—both of which could be used to prevent food waste.
Discarded food, for instance, uses significant land, water, labor, and energy resources to process the waste. Trucks, drivers, and fuel are constantly needed to transport food waste. Finally, the food waste is prepared, stored, and ultimately discarded.
How does food loss occur?
At the retail level, some types of food loss are inevitable, such as spoilage. But between the food-growing stage on the farm and transportation to retail outlets, food loss also occurs. Problems arise during the drying, milling, and processing of food that exposes it to insects, birds, and mold.
Restaurant equipment, like refrigerators and freezers, can malfunction, causing a loss of food. Chefs at commercial kitchens may carelessly overorder food, and grocery store managers may discard blemished produce that is fit to eat but too visually unappealing to sell on their vegetable and fruit stands.
What is the Food Recovery Hierarchy?
Due to the overwhelming loss of healthy, edible food in the United States, the Environmental Protection Agency developed a model known as the Food Recovery Hierarchy. Restaurants and other food businesses are advised to take the recommended actions to prevent food waste and divert wasted food.
Tier 1: Source Reduction
At the top of the hierarchy is source reduction. Restaurants can avert food waste by not creating it in the first place. Conducting a waste audit is a practical food waste prevention strategy. The audit identifies food waste that can be avoided and calculates how much money restaurants save.
Restaurants may also compare purchase inventory with customer orders, modify menus to reduce uneaten food, and ensure better food storage techniques. Surplus food may be used to create new dishes, like croutons made from stale bread. Reducing serving sizes also prevents food waste.
Tier 2: Feeding Hungry People
Redistributing wholesome food is the second tier in the Food Recovery Hierarchy. About 13.7 million households in the US have trouble providing food for their families. Donating food helps feed hungry people. Restaurants can promptly deliver perishable food to needy people in their communities.
Many online resources can be accessed to help restaurants locate community food banks, soup kitchens, and shelters. Feeding America's Find Your Local Foodbank website offers a map of member food banks. Search the AmpleHarvest website by zip code to find nearby food pantries on its interactive map.
Tier 3: Feed Animals
The third tier in the Food Recovery Hierarchy is feeding animals. Farm animals go hungry, a situation that can be avoided when restaurants handle their food scraps properly. It is more economical for farms and companies to feed food scraps to animals than to haul them to a landfill.
Restaurants can donate surplus food to local zoos and companies that produce pet food. Managers should be aware of state regulations before donating. Dairy and meat may not be donatable, and coffee grounds and foods high in salt are regulated due to the harm they can cause animals.
Tier 4: Industrial Uses
The Food Recovery Hierarchy's fourth tier is industrial uses. Wasted food can be repurposed to power vehicles and generators. Turning food waste into biofuel and bio-products is an ongoing initiative with positive environmental and economic impacts. It also increases the use of alternative energy sources.
Fats, oils, and greases should never be discarded into the sewer system. Instead, cooking oils should be recycled and converted into valuable biofuels. As an environmentally friendly alternative fuel, biofuels reduce greenhouse gases and sulfur dioxide in air emissions. Biofuels are also biodegradable.
Tier 5: Composting
Nourishing soil is done via the Food Recovery Hierarchy's fifth tier: composting. Inedible portions of food are excellent candidates for composting. Composting food waste helps improve soil (which produces a higher yield of crops), eliminates the need for chemical fertilizers, and enhances water retention in soil.
Tier 6: Landfill
The least-preferred option hangs at the very bottom of the Food Recovery Hierarchy triangle: landfill/incineration. Food waste that does not fall into any of the above five tiers may, out of last resort, be transported to a landfill or incinerator for disposal.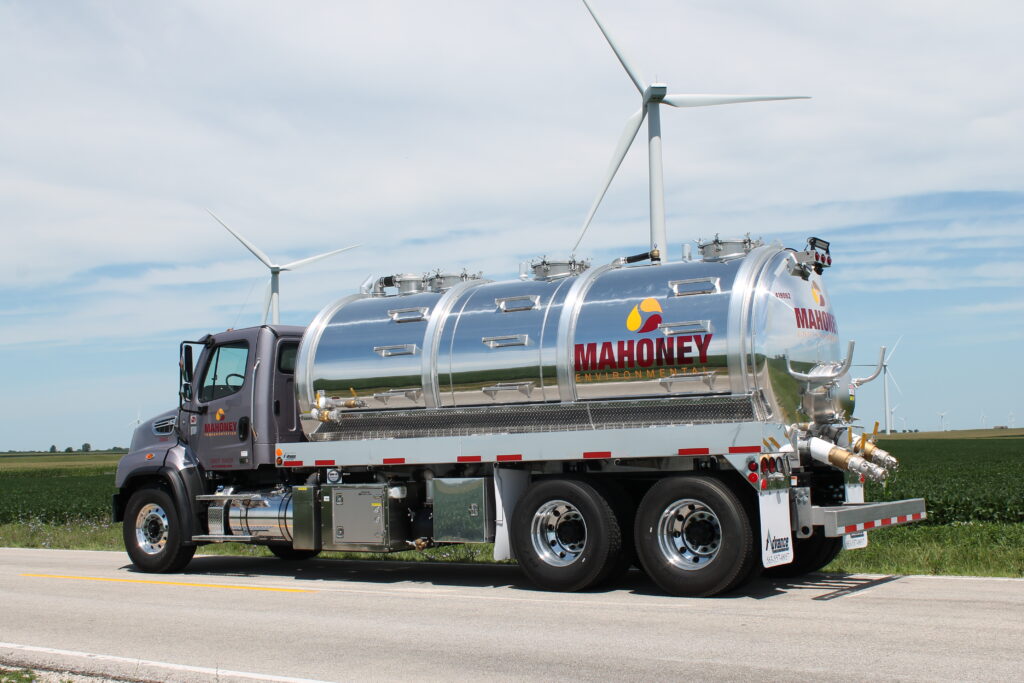 Food waste is an inevitable part of operating a restaurant. But handling food waste in an environmentally friendly and economical way offers more benefits to society than unnecessarily filling up landfills. At Mahoney Environmental, we're committed to helping restaurants avoid food waste.
We offer a cooking oil recycling and collection program that restaurants across the country value. Our efficient services help commercial kitchens improve their safety, sanitation, and cost of frying. Recycling used cooking oil produces valuable renewable resources, such as renewable fuel and sustainable aviation fuel.
Restaurants that partner with Mahoney Environmental implement the fourth tier in the EPAs Food Recovery Hierarchy and support a cleaner environment. Other beneficial services our company provides to restaurants include commercial grease trap maintenance and used cooking oil equipment and design.
Mahoney Environmental is the number one partner for used cooking oil disposal. Also, in select markets, our technicians deliver fresh cooking oil to ensure that your commercial kitchen is amply stocked. Restaurant managers are encouraged to call our Joliet, Illinois, headquarters to schedule cooking oil pickups and deliveries.
We are proud to serve food establishments across the country, including Atlanta, Boston,  Chicago,  Cleveland,  Columbus,  Dallas, Denver,  Houston, Indianapolis, Kansas City, Los Angeles,  Miami,  Nashville,  New York,  Philadelphia,  Phoenix,  San Diego,  Seattle,  Washington DC and the surrounding areas.