Cooking oil is essential for commercial kitchens, and it is important for foodservice businesses to have a system in place to manage the handling and disposal of their cooking oil.  Used cooking oil especially needs to be stored properly and recycled to be made into new products.  The best way for foodservice businesses to ensure that their cooking oil is recycled is to work with a professional like Mahoney Environmental for used cooking oil (UCO) pickup.

Mahoney Environmental provides used cooking oil pickup and recycling services for commercial kitchens and foodservice businesses in Kansas City.  We provide UCO pickup for restaurants, shared kitchens, ghost kitchens, bars, hotels, universities, and grocery stores and Mendota Agri-Products, a part of Mahoney, recycles the used oil.  Used cooking oil is repurposed to make diesel fuel and animal feed with the eco-friendly recycling process.
Used Cooking Oil Collection and Recycling Services
Commercial kitchens must handle their cooking oil properly from the delivery and storage of fresh cooking oil to usage in the fryers and storage of the used cooking oil.  Used cooking oil can fill your storage tank quickly and if the tank is not emptied regularly, the risk of grease theft and accidents that can result in a spill increase.  Our professionals at Mahoney Environmental provide regular waste oil pickup to collect the used cooking oil from your storage tank.
If your business works with Mahoney Environmental through our waste cooking oil collection program, you can expect regularly scheduled UCO pickups.  We will load the cooking oil into our trucks from your storage tanks and take it to be recycled at our Mendota Agri-Products facility.  Your cooking oil recycling program will be set up to meet the specific needs of your business.  You will be able to improve the safety and sanitation of your kitchen and lower your frying costs with our waste cooking oil recycling program.
As an EPA-registered recycler, Mahoney Environmental is a leading provider of waste cooking oil recycling in the U.S.  We can provide you with the proper used cooking oil handling equipment and storage that is environmentally compliant and provide accurate and accountable reporting of the used cooking oil we collect.  The used cooking oil is recycled by Mendota Agri-Products and used to produce biofuels, animal feed, and other renewable products.
Our used cooking oil collection and recycling services include the following:
Proper storage equipment with anti-theft features
Level monitoring of used cooking oil storage
Pickup of used cooking oil
Used cooking oil recycling
Our waste cooking oil collection program will help your foodservice business by ensuring that your used cooking oil is collected regularly and taken to a facility to be recycled.
Commercial Grease Trap Cleaning and Installation Service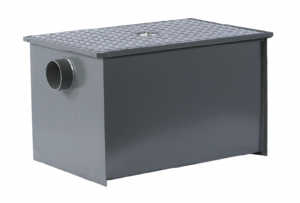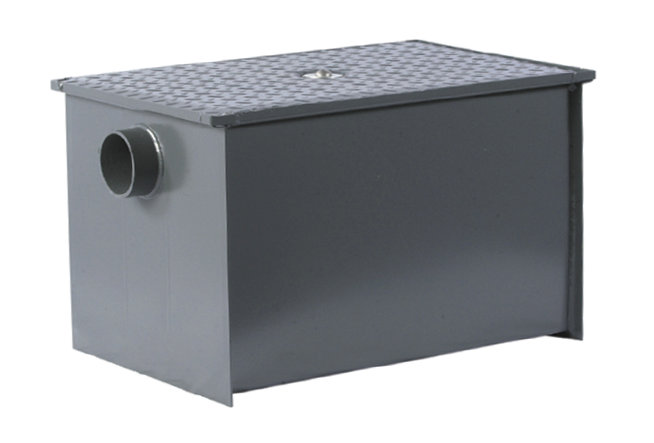 Grease traps must be in every commercial kitchen because they protect the sewer system by preventing fats, oil, and grease (FOG) from getting washed down the drain.  It is important to prevent FOG from being washed down the drain because they are harmful for the natural environment, and they can cause serious damage to the sewer system.  If your business is washing grease and oil down the drain because you don't have grease traps or the traps are clogged or not functioning properly, you may be in violation of city ordinances that can result in fines.
Grease traps use a system of baffles that separate fats, oil, and grease from the water.  The FOG then rises from the water and collects within the trap while the water is allowed to drain.  Setting up regular grease trap cleaning and maintenance services with a professional like Mahoney Environmental will help ensure that your grease traps are always in working order.
You or your employees should also be checking the grease traps on a regular basis to look for clogs and other issues.  The following problems may occur if your grease traps are clogged:
Kitchen flooding
Bad odors
Contamination and health issues
Expensive remediation
Business closures
Mahoney Environmental provides complete grease trap installation, cleaning, and maintenance services that include the following:
Installation: We can install grease traps in commercial kitchens where there are no traps.
Regular maintenance: Our regularly scheduled maintenance services include removing grease from the traps and providing maintenance needed to keep them functional.
Cleaning and repair: We will clean the traps to remove all FOG and provide repairs if necessary.
Rodding and jetting: We can rod out your grease traps to remove stubborn buildup.
Inspection report: We will make a report of the condition of your grease traps after every inspection.
History reports: Our reports from each visit will be documented so that we can keep a history of our maintenance and repairs which helps us anticipate the maintenance needed for the next visit as well as potential future issues.
Emergency 24/7 cleanup: We are available for emergency grease trap cleaning and maintenance so we can quickly resolve issues and help you keep your business open.
Compliance with municipal and state regulations: We will help make sure that you are following local and state regulations by keeping FOG out of the sewer system. This will help avoid fines and shutdowns that will cost your business.
Commercial Used Cooking Oil Containers and Automated Systems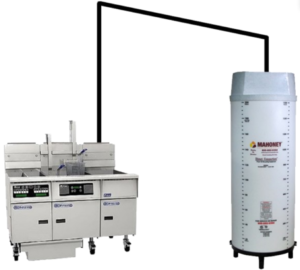 Cooking oil must always be handled with the proper care in commercial kitchens from the time it arrives as fresh cooking oil until it is stored after use.  Spills from the mishandling of cooking oil create dangerous working conditions that could lead to injuries from falls and burns.  Having a system in place to transfer and handle cooking oil from the fryers to the storage tanks will reduce the risk of workplace accidents.
Mahoney Environmental provides automated cooking oil systems that allow cooking oil to be transferred easily with minimal handling by your employees.  We can help install the following automated cooking oil systems in commercial kitchens:
Direct Connection: Our Direct Connection Recycler System connects the fryers to the waste oil tank so all you have to do is flip a switch or turn a lever to transfer the used cooking oil to the tank.
Indoor System: Our indoor solution includes an interior storage container with piping that connects to your fryers. A portable filter machine can be used for oil filtration.
Heated Outdoor Bulk Container: Our heated outdoor bulk containers are insulated and heated and they have an anti-theft lock for protection. The used cooking oil must be transferred using an oil shuttle and the oil must be poured through the screen over the opening of the tank to filter debris.  These tanks have the option of a level sensor to monitor the amount of used cooking oil.
The following may be included as part of our automated cooking oil systems:
Connective piping
Oil shuttles
Fryer filter machines
Used oil containers
Call Your Kansas City Oil Recycler – Mahoney Environmental
Mahoney Environmental can help foodservice businesses in Kansas City with cooking oil related services including automated cooking oil systems, grease trap cleaning and maintenance, and used cooking oil pickup and recycling.
You can reach the professionals of Mahoney Environmental at (800) 892-9392 for more information about how we can help your foodservice business.