Cooking oil is essential for the operation of a commercial kitchen and all foodservice businesses must have a system in place to handle their cooking oil.  Proper handling of the cooking oil from the time it arrives as fresh oil until it needs to be stored after use will create a safer and more efficient working environment.  The best way to ensure that your business properly handles your cooking oil is to work with a professional like Mahoney Environmental to provide used cooking oil (UCO) pickup.
Mahoney Environmental provides used cooking oil pickup and recycling services for foodservice businesses in Miami, FL.  We can help all types of businesses in the foodservice industry including bars, restaurants, shared kitchens, ghost kitchens, hotels, grocery stores, universities, and more.  We will pick up used cooking oil at regular intervals and take it to our facility for the environmentally friendly process of cooking oil recycling.
Waste Cooking Oil Collection and Recycling Services
Cooking oil requires proper handling and storage before, during, and after use.  Used cooking oil needs to be transported and stored in the proper containers and must be picked up regularly before the storage tank fills.  Regular pickups help prevent spills and injuries as well as theft.  Mahoney Environmental provides regular waste cooking oil collection and recycling so your storage tank is never full.

We offer regular used cooking oil pickups for businesses that are part of our waste cooking oil collection program.  Our professionals can load your used cooking oil directly into our trucks from your storage containers and we will take it to our facility where it can be recycled.  Our cooking oil recycling services can be tailored to suit the specific needs of your business.  Our regular waste cooking oil pickups will not only help you maintain a safe working environment in your kitchen, but also lower your frying costs.
Mahoney Environmental is a nationwide leader in cooking oil recycling and a licensed EPA recycler.  We will accurately report the cooking oil that we collect from you, and we can help your business stay compliant with cooking oil handling by providing equipment and storage containers.  The used cooking oil is taken to our facility where it will be recycled and used in the production of renewable diesel, sustainable aviation fuel (SAF), plastics and other products.
Our waste cooking oil collection and recycling services include the following:
Handling and storage equipment for cooking oil
Level monitoring of used cooking oil
Used cooking oil pickup
Used cooking oil recycling
Commercial Grease Trap Cleaning and Installation Services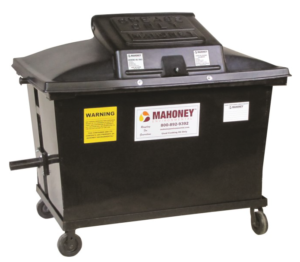 Grease traps are an important feature of commercial kitchens because they protect the sewer system from fats, oil, and grease (FOG).  If these materials are washed down the drain, they can cause damage to the sewer system and harm the natural environment.  It is also against municipal codes to wash oil and grease down the drain and doing so can result in fines for your business.
Grease traps prevent fats, oil, and grease from washing down the drain by separating these materials with a system of baffles and containing them within the trap.  As the traps fill with oil and grease, there is a higher risk of the traps getting clogged.  This is why the grease traps need to be cleaned out regularly.
You should always keep an eye on your grease traps and ensure that they are cleaned out regularly or the following may occur:
Foul odors
Kitchen flooding
Contamination and health issues
Expensive remediation services
Business closures
Mahoney Environmental provides grease trap installation, cleaning, and maintenance services that include the following:
Regular maintenance: We provide maintenance on a regular basis to remove built up oil and grease from the traps and make any necessary repairs.
Cleaning and repair: After the grease traps are cleaned, we will look for and provide repairs as needed.
Rodding and jetting: We can rod and jet your grease traps to remove tough clogs.
Inspection report: We create and provide a report with each visit.
History reports: Our inspection reports give us a full history of your grease traps which allows us to find and address potential problems and anticipate upcoming maintenance needed.
Emergency 24/7 cleanup: We are available to respond 24 hours a day to clean out and maintain you grease traps.
Compliance with municipal and state regulations: Foodservice businesses must follow municipal and state codes against allowing fats, oil, and grease down the drain. You may face fines or a temporary shut down by violating these codes.
Commercial Used Cooking Oil Containers and Automated Systems
Cooking oil requires proper handling and storage before, during, and after use.  If the cooking oil is not handled properly, there is a higher risk for spills which leads to burns and injuries.  A system needs to be in place in all commercial kitchens to ensure that used cooking oil is safely moved from the fryers to the storage containers.
Mahoney Environmental can design and install automated systems for the handling and transfer of cooking oil.  With automated systems, your employees won't have to touch the oil which makes the transfer safe and easy.  We offer the following automated cooking oil handling systems:
Direct Connection: Our Direct Connect Recycler System connects your fryers directly to your storage tank so you can transfer the used cooking oil by turning a lever or flipping a switch.
Indoor System: Our indoor solution includes an interior storage container with piping that connects to your fryers. A portable filter machine can be used for oil filtration.
Heated Outdoor Bulk Container: The heated outdoor bulk containers are insulated outdoor storage containers with an anti-theft lock and screen over the opening to filter the oil. These tanks also have a level sensor so you can monitor the level of oil in the tank.
The following are included with the cooking oil systems we install:
Storage tank for used cooking oil
Fryer filter machines
Oil shuttles
Connective piping
Call Your Miami Oil Recycler – Mahoney Environmental
Mahoney Environmental can help foodservices businesses in Miami, FL and the surrounding areas with cooking oil services including automated cooking oil handling systems, grease trap cleaning and maintenance, and cooking oil pickup and recycling.
Give Mahoney Environmental a call at (800) 892 9392 for more information.