Cooking oil plays an essential part in ensuring the efficient operation of professional kitchens, and establishing a well-organized approach to overseeing cooking oil becomes imperative for all foodservice businesses. Instituting appropriate protocols for the entire lifecycle of cooking oil, from its delivery as fresh oil to its post-utilization storage, not only fosters a more secure workspace but also amplifies general effectiveness. For the optimal handling and storage of your cooking oil, enlisting help from experts like Mahoney Environmental, who are experts in gathering used cooking oil (UCO), is a recommended step.
Mahoney Environmental excels in offering dependable used cooking oil collection and recycling solutions, designed particularly to suit the needs of foodservice enterprises in Austin, TX. Our expertise extends to diverse segments within the culinary realm, including taverns, restaurants, collaborative kitchens, virtual kitchens, lodging establishments, supermarkets, educational institutions, and beyond. Through consistently planned pickups, we guarantee the correct disposal and ecologically conscious reprocessing of your used cooking oil at our specialized center.
Waste Cooking Oil Collection and Recycling Services
The appropriate management and safekeeping of cooking oil holds crucial importance prior to, during, and after its use. Guaranteeing that used cooking oil is stored in the proper storage containers is important, as well as arranging consistent collections of UCO. Regular pickups of used cooking oil not only help avoid spillages, accidents, and unauthorized access but also aid in maintaining a secure and more efficient kitchen. Mahoney Environmental excels in providing recurring services for the collection and eco-friendly processing of used cooking oil, ensuring that your storage tank never reaches its limit.
Our program for collecting used cooking oil offers convenient pickups exclusively for businesses seeking to dispose of their UCO. Our team of experts efficiently loads the oil from your storage containers onto our trucks for transportation to our recycling facility. We recognize that every business has distinct needs, so our cooking oil recycling services can be customized to meet your specific requirements. Regularly collecting your waste cooking oil not only promotes a safe kitchen environment but also aids in lowering frying expenses.
Mahoney Environmental stands out prominently as an EPA-licensed UCO recycler. We guarantee meticulous documentation of the cooking oil acquired from your establishment and help you stay in compliance with regulations for cooking oil management. Beyond this, we offer equipment and storage containers that streamline the appropriate storage and collection processes. The accumulated used cooking oil is taken to our dedicated facility, undergoing a recycling process that transforms it into valuable resources like renewable diesel, sustainable aviation fuel (SAF), and an array of other sustainable products.
We provide the following waste cooking oil collection and recycling services:
Cooking oil handling and storage equipment
UCO level monitoring
Used cooking oil pickup
Used cooking oil recycling
Commercial Grease Trap Cleaning and Installation Services
In professional kitchens, reliance on grease traps is essential to protect the sewer system from the detrimental impacts of fats, oils, and grease (FOG). These elements, if present in wastewater, have the potential to wreak havoc on sewer infrastructure and impose environmental threats. Additionally, adhering to municipal regulations is imperative, as the disposal of oil and grease down drains is prohibited, and failing to comply could result in penalties for your establishment.
To keep FOG out of the drainage system, grease traps utilize a sequence of baffles that segregate and confine these substances within the trap. However, as these traps gather accumulations of oil and grease, the likelihood of obstructions heightens, necessitating periodic cleaning for peak operational efficiency.
Failure to have your grease traps regularly cleaned and maintained can cause the following:
Flooding in the kitchen
Bad odors
Expensive remediation services
Contamination and health issues
Fines
Business closures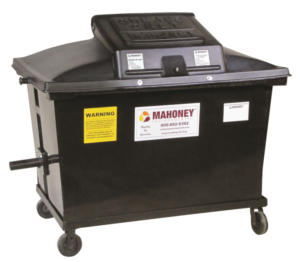 At Mahoney Environmental, we provide the following grease trap cleaning and maintenance services:
Ongoing maintenance: We offer regular maintenance visits designed to eliminate the buildup of oil and grease within the traps, in addition to addressing necessary repairs, thus guaranteeing their peak performance.
Cleaning and repair: Before cleaning your grease traps, we meticulously examine them for potential repair needs, swiftly and effectively providing restoration services when required.
Rodding and high-pressure jetting: When grappling with stubborn blockages, we can employ rodding and high-pressure jetting methods, successfully eradicating stubborn obstructions from your grease traps.
In-depth inspection records: With each visit, we diligently create comprehensive inspection records that provide valuable insights into the condition of your grease traps.
Historical documentation: Our inspection reports maintain an exhaustive historical record of your grease traps, helping us promptly identify and address potential issues, as well as anticipate upcoming maintenance.
Emergency cleaning available 24/7: Acknowledging the urgency of unforeseen scenarios, our team is available around the clock, ensuring swift response and cleansing procedures to uphold the efficiency of your grease traps.
Adherence to local and state mandates: For foodservice establishments, strict adherence to municipal and state codes, which forbid the disposal of fats, oil, and grease down drains, is paramount. Non-compliance could lead to substantial fines or even the temporary closure of your business. By prioritizing your compliance with these regulations, we assure your avoidance of any such penalties.
Commercial Used Cooking Oil Containers and Automated Systems
Efficient control, storage, and handling of cooking oil is very important pre-use, during application, and after use. Mishandling cooking oil drastically heightens the risk of spillage, consequently leading to burns and injuries. Thus, it becomes pivotal for commercial kitchens to establish a dependable system that facilitates the secure transfer of used cooking oil from fryers to storage containers.
Mahoney Environmental specializes in the design and installation of automated equipment uniquely tailored for the use and transfer of cooking oil. With the integration of our automated systems, your staff can avoid direct contact with the oil, ensuring both safety and simplicity throughout the transfer procedure. Our automated cooking oil systems consist of the following:
Oil shuttles
Portable filter machines
UCO storage containers
Connective piping
Call Your Austin Oil Recycler – Mahoney Environmental
Mahoney Environmental provides all-encompassing support to foodservice businesses located in Austin, TX, and the adjacent regions. Our broad spectrum of offerings includes automated mechanisms for the use and storage of cooking oil, maintenance and cleaning of grease traps, and the pickup and recycling of used cooking oil.
To learn more about the ways in which Mahoney Environmental can help your establishment, reach out to us at (800) 892 9392.