Commercial kitchens go through a lot of cooking oil, and it is important for the handling and storage of fresh and used cooking oil to be done properly.  Once cooking oil has passed its useful life, it needs to be stored safely and picked up for recycling.  Foodservice businesses can work with a licensed professional to pick up their used cooking oil (UCO) and ensure that it is recycled.

Mahoney Environmental is a licensed professional that provides restaurant grease pickup and recycling services for foodservice businesses in Nashville, TN.  We can work with any type of business in the foodservice industry including restaurants, bars, hotels, universities, grocery stores, ghost kitchens, shared kitchens, and more.  You can expect regular UCO pickups for recycling when you work with our professionals.
Fryer Oil Disposal and Recycling Services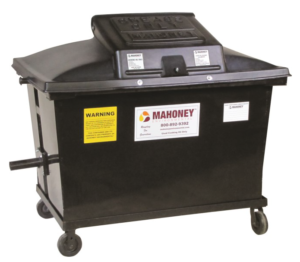 Cooking oil passes its useful life after several uses in the fryer.  Once this happens, the oil must be removed from the fryer and put into a proper storage container until it is collected for recycling.  Having a system in place to properly handle and store used cooking oil and ensuring regular UCO pickups will help prevent spills and injuries and protect the natural environment.  By working with a professional recycler like Mahoney Environmental, you can establish regular pickups so that the UCO is taken for fryer oil recycling.
Our fryer oil disposal and recycling services include regular pickups from your storage tanks so we can take the UCO to our facility for recycling.  We can adjust our UCO pickup services to meet the specific needs of our clients.  The UCO will be transferred directly from your tank to our truck with no need to interact with our professionals.  Our regular UCO pickups will help you reduce your frying costs and keep a safer working environment in your kitchen.
Mahoney Environmental is an EPA licensed provider of fryer oil recycling services.  We accurately report all UCO that is collected from your establishment.  After the UCO has been recycled, it is used in the production of sustainable aviation fuel (SAF), renewable diesel fuels, plastics, and other products.
Our fryer oil recycling services consist of the following:
Level monitoring of the UCO tanks
Used fryer oil pickup
Recycling of the UCO
Storage tank and cooking oil handling equipment installation
Restaurant Grease Trap Cleaning and Installation
It is important for commercial kitchens to have grease traps that filter fats, oil, and grease (FOG) from the wastewater.  These materials can cause damage to the plumbing and sewer system and pollute the natural environment if they are washed down the drain.  Your business can also be fined for violating municipal codes if you do not prevent FOG from being drained into the sewer system.
Restaurant grease traps use a system of baffles that separate the FOG from the water.  These materials will rise up from the water and get caught within the trap.  The accumulated FOG needs to be cleaned from the grease traps regularly or the buildup can cause clogs and other issues.
Clogged grease traps can cause the following problems:
Kitchen flooding
Foul odors
Expensive remediation services
Contamination and health issues
Business closure
Fines
Mahoney Environmental can help you keep your grease traps clean and in working order with our grease trap cleaning and maintenance services.  We also provide installation for kitchens that need new grease traps.  Our grease trap cleaning and maintenance services include the following:
Regular maintenance: We will schedule regular maintenance to inspect the grease traps and ensure they are in working order.
Cleaning and repair: The buildup of FOG will be removed, and we will provide repairs when needed.
Rodding and jetting: We can rod and jet the grease traps to remove clogs.
Inspection report: The condition of the traps will be documented in an inspection report on each visit.
History reports: Our inspection reports help us create a documented history of your traps which allows us to anticipate needed maintenance and prevent serious issues.
Emergency 24/7 cleanup: We can respond to grease trap emergencies 24 hours a day to address the problem and minimize the interruption to your business.
Compliance with regulations: Keeping your grease traps clean and in good repair will help you stay in compliance with local and state regulations.
Restaurant Grease Disposal Containers
Commercial kitchens must have a system in place to safely transfer and store cooking oil before, during, and after use.  Having an effective cooking oil handling system helps prevent spills, burns, and injuries for a safer working environment.
Our professionals at Mahoney Environmental can install cooking oil handling systems that include frying oil filter machines and commercial grease disposal containers.  We provide the following with our automated cooking oil handling systems:
Direct Connection: Our Direct Connection Recycler System connects your fryers directly to your storage container so you can flip a switch or turn a lever to transfer the UCO to the storage container.
Indoor System: Our indoor system features a dedicated indoor storage tank with pipelines extending and connecting to the fryers. The UCO filtration process involves utilizing a portable filter machine.
Heated Outdoor Bulk Container: Our heated outdoor bulk containers are insulated for outdoor use. These containers feature anti-theft locks, a filtering screen over the opening, and a sensor to monitor the UCO levels in the tank.
We provide the following commercial grease storage containers:
ClearView 200
Metro SecureTrack® (MST)
SecureTrack® (ST)
MEC-400 Gallon Inside Storage Tank
MEC-600 Gallon Outside Storage Tank
Direct Connection® 48
Outside Enclosure 72 w/ CO2 Cabinet
Call Your Nashville, TN Oil Recycler – Mahoney Environmental
Mahoney Environmental is a licensed cooking oil recycler that provides fryer oil disposal and recycling, restaurant grease trap cleaning and maintenance, and grease disposal containers for foodservice businesses in Nashville, TN.
Call Mahoney Environmental at (800) 893-9392 for more information about our services.