Commercial kitchens tend to go through a lot of cooking oil and the proper handling and storage of cooking oil is important for the efficiency and safety of the kitchen.  Once the cooking oil has been used, it needs to be stored in a specialized container so it can be picked up for recycling.  Restaurants can work with a licensed professional to ensure that their used cooking oil is picked up regularly.
Mahoney Environmental provides restaurant grease pickup and recycling services for foodservice businesses in Dallas, TX.  We are a licensed used cooking oil (UCO) recycler that works with a variety of foodservice businesses including restaurants, bars, cafés, grocery stores, hotels, universities, shared kitchens, ghost kitchens, and more.  Our professionals will provide regular UCO pickups and transport it to our facilities for recycling.
Fryer Oil Disposal and Recycling Services
Once fresh cooking oil is put into the fryers, it can be used for several cycles before it passes its useful life.  The used cooking oil will then need to be transferred to a proper storage container until it is picked up for recycling.  Ensuring that the UCO is put in the proper grease storage container will help prevent spills and injuries and keep it from affecting the natural environment.  Working with a professional recycler for fryer oil disposal and recycling like Mahoney Environmental will help ensure that your UCO is picked up at regular intervals.

At Mahoney Environmental, we tailor our UCO pickup services to suit the specific needs of our clients.  Our professionals will load the UCO from your storage containers to our trucks and transport it safely to our recycling facility.  You will be able to reduce frying costs and create a safer working environment in your kitchen with regular UCO pickups from our professionals.
Mahoney Environmental is a licensed EPA recycler that provides cooking oil handling and storage equipment and grease trap cleaning and maintenance as well as UCO pickup services.  We create accurate reports of all UCO we collect from your establishment.  The UCO is recycled at our facility so it can be used in the production of sustainable aviation fuel (SAF), and renewable diesel.
Our fryer oil recycling services include the following:
UCO level monitoring
Used fryer oil pickup
Transport and recycling of UCO
Cooking oil handling equipment and grease storage container installation
Restaurant Grease Trap Cleaning and Installation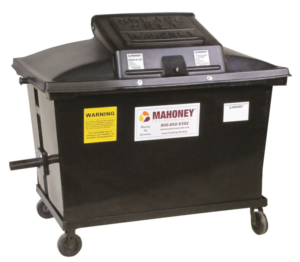 It is important for commercial kitchens to have working grease traps that filter fats, oil, and grease (FOG) from the wastewater.  If FOG is washed down the drain, it can clog and damage the plumbing and sewer system and pollute the natural environment.  Allowing FOG down the drain also violates local ordinances which can result in fines for your business.
Restaurant grease traps filter the fats, oil, and grease using a system of baffles that separate them from the water.  The FOG then rise into the trap where they are held until the traps are cleaned.  The built-up FOG must be removed from the traps regularly or the traps could clog which leads to flooding and other issues.
The following problems may occur without regular grease trap cleaning:
Kitchen flooding
Contamination and health issues
Foul odors
Expensive remediation services
Fines
Business closure
At Mahoney Environmental, we provide installation for grease traps as well as grease trap cleaning and maintenance, including necessary repairs.  Our complete grease trap cleaning and maintenance services include the following:
Regular maintenance: We can provide regular maintenance to ensure that your grease traps are functional and free of issues.
Cleaning and repair: We will clean out the built-up FOG from the traps and provide any repairs needed.
Rodding and jetting: We can rod and jet the grease traps to remove any clogs.
Inspection report: We will provide you with an inspection report that includes the work done and an update on the condition of the traps.
History reports: Our inspection reports create a documented history of your traps which helps us notice and anticipate any problems so they can be resolved quickly.
Emergency 24/7 cleanup: We are available 24/7 for emergency cleaning and repairs to keep your grease traps functional.
Compliance with regulations: Our grease trap cleaning and maintenance will keep your grease traps in working order and in compliance with local and state regulations.
Restaurant Grease Disposal Containers
Commercial kitchens need a system in place that allows for the safe transport and storage of fresh and used cooking oil.  The efficient handling and storage of cooking oil reduces the risk of spills, burns, and injuries which contributes to a safer working environment.
Mahoney Environmental installs cooking oil handling equipment that includes commercial grease disposal containers and frying oil filter machines that allow for the safe transfer and storage of UCO. We offer the following systems that can be customized to suit commercial kitchens:
Direct Connection: Our Direct Connection Recycler System uses piping to directly connect your fryers to your grease storage containers, so you just turn a lever or flip a switch to send the cooking oil to the container.
Indoor system: Our indoor system features a dedicated indoor storage tank with pipelines extending and connecting to the fryers. The UCO filtration process involves utilizing a portable filter machine.
Heated Outdoor Bulk Container: This system includes our heated outdoor bulk containers that feature insulation, anti-theft locks, and level sensors. They also have anti-theft locks for protection.
The commercial grease storage containers we offer include the following:
ClearView 200
Metro SecureTrack® (MST)
SecureTrack® (ST)
MEC-400 Gallon Inside Storage Tank
MEC-600 Gallon Outside Storage Tank
Direct Connection® 48
Outside Enclosure 72 w/ CO2 Cabinet
Call Your Dallas Oil Recycler – Mahoney Environmental
Mahoney Environmental is a licensed oil recycler that works with foodservice businesses in Dallas, TX to provide fryer oil disposal and recycling, grease trap cleaning and maintenance, and grease disposal containers.
You can call us at (800) 893-9392 for more about our services.