Most commercial kitchens use a lot of cooking oil, necessitating proper handling and storage protocols. Disposing of the used oil is not a simple task for foodservice businesses, as it must be stored for recycling purposes. A licensed professional specializing in restaurant grease pickup services can facilitate the collection of used cooking oil.
Mahoney Environmental operates as a licensed provider of restaurant grease pickup and recycling services specifically catering to foodservice businesses located in Tucson, AZ. Our range of services includes the pickup of used cooking oil (UCO) from various establishments, such as bars, restaurants, hotels, universities, grocery stores, ghost kitchens, shared kitchens, and more. By collaborating with our seasoned experts, you can ensure the regular collection and recycling of your used cooking oil.
Fryer Oil Disposal and Recycling Services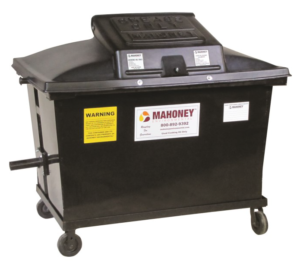 The use of cooking oil in fryers can be extended for multiple cycles before it loses its effectiveness. Once the cooking oil reaches the point of being unusable, it is crucial to store it in appropriate grease tanks until it can be collected for recycling. Proper storage and regular pickup of UCO are essential to minimize the risks of oil spills, injuries, and environmental damage. By partnering with a professional recycler like Mahoney Environmental, you can ensure that your used cooking oil is efficiently collected for fryer oil recycling.
At Mahoney Environmental, we collaborate with foodservice businesses to provide comprehensive fryer oil disposal and recycling services. Our process involves picking up the used oil from your tanks and transporting it to our recycling facility. We customize our fryer oil recycling services to meet the unique requirements of each client. Our experienced professionals handle the transfer of your used cooking oil to our trucks, ensuring its safe transportation to our recycling facility. By scheduling regular pickups of your used cooking oil, you can maintain a safe working environment in your kitchen and reduce frying costs.
As an EPA-licensed provider, Mahoney Environmental specializes in fryer oil recycling services. Additionally, we offer the installation of cooking oil handling equipment to facilitate safe handling and storage of oil in your establishment. All the cooking oil we collect from you is meticulously documented, and we transport it to our recycling facility, where it is utilized in the production of renewable diesel, sustainable aviation fuel (SAF), and other products.
When you choose our fryer oil recycling services, you can expect the following benefits:
Used fryer oil pickup
Used fryer oil recycling
Transport and recycling of used fryer oil
Installation of cooking oil handling equipment and storage tanks
Restaurant Grease Trap Cleaning and Installation
To maintain compliance with municipal regulations and protect the environment, it is essential for all commercial kitchens to have fully operational grease traps that effectively prevent fats, oil, and grease (FOG) from being washed down the drain. Allowing these substances to enter the plumbing and sewage system can result in severe damage and negative environmental impacts. Moreover, disregarding these regulations may lead to potential fines imposed by the city for violating ordinances.
Restaurant grease traps use a system of baffles to separate fats, oil, and grease from the water, allowing these substances to rise and be trapped within the system. Regular cleaning of the grease traps is of utmost importance to prevent the accumulation of excessive grease and oil, which can lead to trap blockages and a range of associated issues. Failure to maintain and clean the traps can result in the following consequences if they become full or clogged:
Kitchen flooding
Bad odors
Business closure
Expensive remediation services
Contamination and health issues
Fines
Mahoney Environmental specializes in comprehensive grease trap cleaning and maintenance services, ensuring the optimal performance of your traps. Our dedicated team will thoroughly clean out the traps and provide any necessary repairs and maintenance. Additionally, we offer professional installation of grease traps for commercial kitchens. When you choose our services, you can expect the following benefits:
Scheduled Maintenance: Our experts will establish a regular schedule for grease trap cleaning and maintenance to prevent issues and ensure consistent functionality.
Cleaning and Repairs: We will efficiently remove oil and grease from the traps and perform any required repairs to keep the traps in optimal working condition.
Rodding and Jetting: For stubborn clogs, we employ rodding and jetting techniques to effectively remove blockages from the traps.
Inspection Reports: With each visit, we provide comprehensive inspection reports detailing the condition of the grease traps, helping you stay informed about their performance.
History Reports: Our system maintains detailed records of the repairs and maintenance conducted on your grease traps. This allows us to anticipate future maintenance needs, promptly address issues, and prevent potential problems from escalating.
24/7 Emergency Cleanup: We understand the urgency of grease trap backups. Our team is available 24/7 to provide emergency cleanup services, preventing damage and disruptions in your kitchen.
Regulatory Compliance: We ensure that your grease traps meet local and state regulations, enabling you to remain compliant with all relevant requirements.
Restaurant Grease Disposal Containers
Ensuring the safe handling and storage of cooking oil in commercial kitchens is of paramount importance. Employing appropriate cooking oil handling equipment is crucial in creating a secure working environment, and minimizing the potential hazards of spills, burns, and injuries.
Mahoney Environmental offers comprehensive solutions for cooking oil handling equipment, including portable filter machines and commercial grease disposal containers. Our range of automated cooking oil handling systems encompasses the following features and benefits:
Direct Connection: Our Direct Connect Recycler System enables a direct connection between the fryers and the storage tanks. By simply turning a lever or flipping a switch, you can effortlessly transfer the used cooking oil, ensuring a smooth and efficient process.
Indoor System: Our indoor system features a dedicated indoor storage tank with pipelines extending and connecting to the fryers. The UCO filtration process involves utilizing a portable filter machine.
Heated Bulk Container: Our Heated Outdoor Bulk Containers are equipped with a filtering screen at the opening, anti-theft locks, and level sensors to accurately monitor oil levels within the tank. With the added benefit of heat, this system ensures optimal oil storage conditions, even in colder climates.
The restaurant grease storage containers we offer include the following:
ClearView 200
Metro SecureTrack® (MST)
SecureTrack® (ST)
MEC-400 Gallon Inside Storage Tank
MEC-600 Gallon Outside Storage Tank
Direct Connection® 48
Direct Connection® 72 w/ CO2 Enclosure
Call Your Tucson Oil Recycler – Mahoney Environmental
Mahoney Environmental offers a range of professional services tailored to the needs of foodservice businesses in Tucson, AZ. Our services include fryer oil disposal and recycling, as well as comprehensive restaurant grease trap cleaning and maintenance. Additionally, we provide reliable grease disposal containers to facilitate proper waste management.
For further information about our services, don't hesitate to reach out to us at (800) 893-9392.