Commercial kitchens tend to go through a lot of cooking oil, and they must properly handle and store the cooking oil, both before and after use.  Once cooking oil has been used, it needs to be stored properly and picked up by a professional that can ensure it is recycled.  It is important for businesses in the foodservice industry to work with a licensed professional that can provide restaurant grease pickup services.
Mahoney Environmental provides restaurant grease pickup and recycling services for commercial kitchens in Seattle, WA and the surrounding areas.  We work with many foodservice businesses, including restaurants, bars, hotels, grocery stores, universities, ghost kitchens, and more, to help them with restaurant oil recycling.  By working with our professionals, you can ensure that your used cooking oil (UCO) is picked up regularly for restaurant oil recycling.

Fryer Oil Disposal and Recycling Services
Cooking oil can only be used for a certain period of time before it passes through its useful life.  Once cooking oil has been used, it must be properly stored in grease tanks until it can be picked up for recycling.  Proper storage and regular pickups for fryer oil recycling are important to keep your employees safe from oil spills and burns and to protect the natural environment.  Working with a partner like Mahoney Environmental is the best way for foodservice establishments to ensure that fryer oil disposal and recycling is done.
We provide regular fryer oil disposal and recycling services to remove used oil from the grease tanks of foodservice businesses and transport it for proper oil recycling.  Our fryer oil recycling services are tailored to the unique needs of each business and can benefit your business by lowering your overall frying costs and helping you create a safe working environment.  We will load the oil from your storage tank into our trucks so it can be transported to the recycling facility.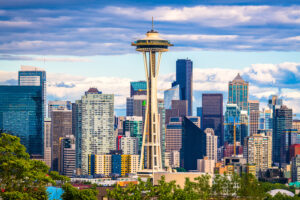 Mahoney Environmental is a licensed EPA recycler that provides fryer oil recycling services.  We keep accurate reporting of the used cooking oil we recycle from you, and we can provide you with equipment for the safe transport and storage of the oil.  We take used cooking oil to our sister company Mendota Agri-Products so they can produce biofuels and animal feed from the recycled cooking oil.
Our fryer oil recycling services consist of the following:
Grease storage tanks and equipment
Monitoring of used grease storage tanks
Pickup of used fryer oil
Transport and recycling of used fryer oil
Restaurant Grease Trap Cleaning and Installation
Grease traps are an important feature of commercial kitchens because they filter fats, grease, and oil from the water and prevent them from going down the drain.  Fats, oils, and grease (FOG) can cause damage to the drainage and sewer system if they are not filtered, and they are bad for the natural environment.  If your commercial kitchen does not effectively filter the grease and oil from the water, your business could be fined for municipal violations.
Restaurant grease traps use a system of baffles that cause oil and grease to rise to the top of the water and get trapped in the traps.  After a while, the built-up grease will clog the traps, preventing the water from draining and the grease from filtering properly.  The following issues can occur when the grease traps become full or clogged:
Kitchen flooding
Bad odors
Business closure
Contamination and health issues
Fines
Expensive remediation services
Mahoney Environmental provides regular restaurant grease trap cleaning services as well as installation and maintenance to keep your grease traps in good shape.  Our grease trap cleaning services include the following:
Regular maintenance: Our professionals will arrive regularly to clean out your grease traps and provide any maintenance needed.
Cleaning and repair: We can clean as well as repair your grease traps to ensure that they continue to work properly.
Rodding and jetting: We can fix clogged grease traps by rodding and jetting the traps.
Inspection report: We will provide a full report of our work and the condition of the traps each visit.
History reports: The inspection reports will help us keep track of the history of your grease traps which helps us look out for potential problems and anticipate the maintenance needed.
Emergency 24/7 cleanup: Backed up grease traps are an emergency situation which is why we are available 24/7 for emergency cleanup and maintenance.
Compliance with regulations: Keeping your grease traps in working order will help you stay in compliance with municipal and state regulations and avoid fines.
Restaurant Grease Disposal Containers
Every commercial kitchen should have a system in place to handle cooking oil that includes a restaurant grease disposal container.  It is important for systems to allow for the safe transport of used cooking oil to the grease tanks while reducing the risk of spills, burns, and injuries.
Mahoney Environmental provides and installs systems for handling used cooking oil that include commercial grease storage containers and frying oil filter machines.  We provide the following types of automated systems:
Direct connection: Our Direct Connection Recycler System connects your fryers directly to your used oil tanks so you can flip a switch or turn a lever to transfer the used oil.
Indoor system: Our indoor system features a dedicated indoor storage tank with pipelines extending and connecting to the fryers. The UCO filtration process involves utilizing a portable filter machine.
Heated outdoor bulk container: These outdoor grease tanks are heated and insulated, and they feature anti-theft locks and a screen for filtering over the opening. These tanks may also include level sensors to monitor the level of used oil in the tank.
The commercial grease storage containers that we provide include:
ClearView Inside Storage Tank
Metro SecureTrack® (MST)
SecureTrack® (ST)
MEC-50 Inside Storage Tank
MEC-600 Outside Storage Tank
Outside Enclosure 48
Outside Enclosure 72
Call Your Seattle Oil Recycler – Mahoney Environmental
Our professionals at Mahoney Environmental can help foodservice businesses in the Seattle, WA area with fryer oil disposal and recycling, restaurant grease trap cleaning, and grease disposal containers.  Give us a call at (800) 892-9392 for more information.