The U.S. restaurant industry has boomed in recent years. The National Restaurant Association concludes that the U.S. restaurant industry earned $899 billion in sales in 2020. But restaurants do not succeed on their own. Restaurant service providers help propel the industry forward.
Restaurants are establishments that serve food to people in public venues. Food service operations are carried out by restaurants, cafeterias, hotels and inns, dining halls, and carry-out out services. Chefs, managers, cooks, waitstaff, hosts, and busboys work to ensure that the restaurant functions.
Yet, another group within the industry is critical to helping restaurants operate. This second group consists of food producers and distributors, equipment suppliers, and manufacturers and food and beverage suppliers. Uniform providers, pest control, and oil pickup companies round out the list.
Restaurant service providers may not directly handle food. However, these companies are integral to the continued success of restaurants of all sizes and specialties. The main restaurant service providers are many and varied, but are important in facilitating restaurant operations.
1. Restaurant Uniform Provider
Restaurant uniform providers deliver professionally cleaned food service uniforms, such as chef coats, chef pants, cook shirts, and aprons. In addition, these companies deliver a range of clean towels for restaurant use, from bar, glass, and dish towels to microfiber and grill pads.
These companies specialize in cleaning the grease, spills, and stains produced in commercial kitchens. Reputable companies ensure the delivery of professionally cleaned materials, so that the restaurant, team members, and customers work and eat in a hygienic and safe environment.
2. Soap and Sanitizer Provider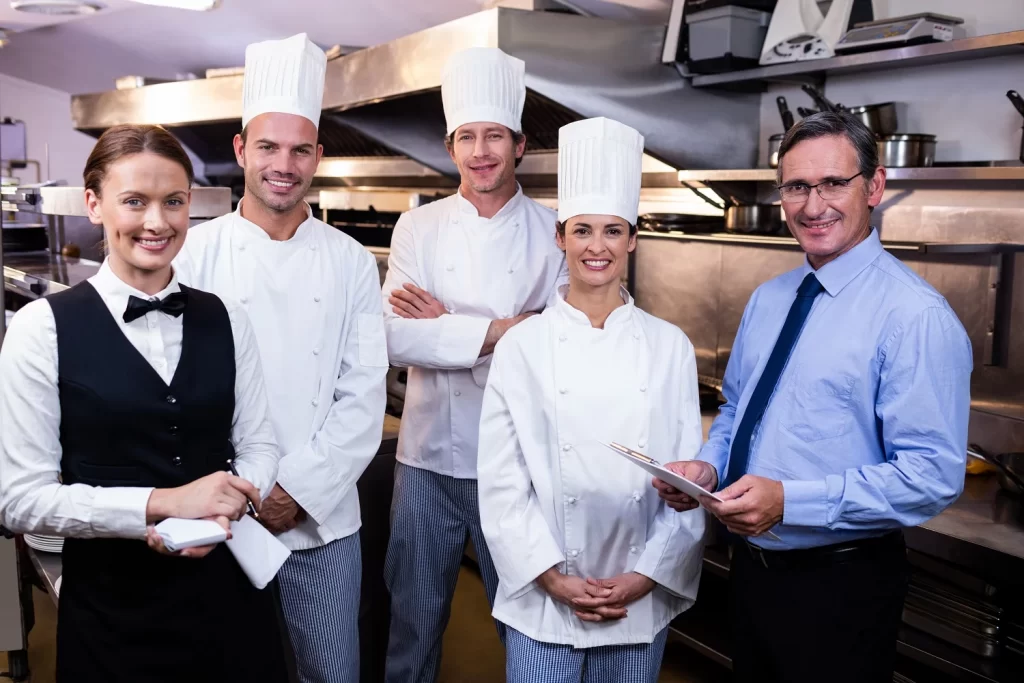 A restaurant should be stocked with ample soaps and sanitizers. Hand soaps and soap dispensers must be made available to restaurant staff, so that they may clean their hands before and after handling food products. Customers require sanitizers, especially during the Covid-19 pandemic.
3. Fire Suppression Inspection Company
Where there is heat, there is risk for fire. Restaurant kitchen safety includes regular inspections, testing, and services performed by fire protection companies. These companies also install and maintain automatic sprinkler systems and fire pumps to protect the restaurant from fire damage.
Restaurants that work with fire protection services to install sprinkler systems keep small fires isolated. Well-maintained sprinkler systems prevent kitchen fires from spreading. These companies install, inspect, test and repair sprinkler systems. Emergency lighting systems for restaurants are also an option.
4. Pest Control Company
The restaurant environment may attract pests, like flies, mice, and birds. Pest control companies are necessary to seal entry points through which animals enter, manage fly infestations, and protect a restaurant's ventilation system and roof from birds. Odor control is also a core service.
5. Trash Pickup Company
Restaurants large and small must manage and recycle waste properly. Quality trash pickup companies offer excellent pickup accuracy rates (such as those up to five times per week), a range of dumpster sizes (from two to eight yards), and accessible customer service.
6. Deep Cleaning Company
Servers, chefs, and cooks are unable to handle the time-intensive and complex task of deep cleaning a commercial kitchen. Professional cleaning companies scrub the kitchen and ensure that it is spotless in preparation for the next day's business. A clean kitchen allows chefs to focus on food preparation.
7. Kitchen Equipment Repair and Maintenance Company
Refrigerators, icemakers, and freezers could break down; exhaust fans may require maintenance. An industry certified kitchen equipment repair and maintenance company will ensure that the restaurant continues to run despite unanticipated appliance malfunctions. Services may also be routinely scheduled to prevent equipment failures.
Commercial kitchen equipment service companies will ideally be authorized by major kitchen equipment manufacturers. Reputable companies service a range of equipment, like broilers, walk-in refrigerators, ice machines, HVAC, and beverage machines. Emergency repair services available 24/7 are beneficial when equipment unexpectedly breaks.
8. Grease Trap Cleaning Company
Any restaurant that cooks with oil will have a grease trap. This important piece of kitchen equipment safely removes fats, oils, and greases from the kitchen. In order for grease traps to function and prevent drain backups, the equipment must be maintained by a grease trap cleaning company.
9. Oil Pickup Company
Kitchen safety issues arise when restaurants fail to schedule regular cooking oil pickups. Working with a dependable oil pickup company, however, ensures that used oil is collected, transported, and recycled. Along with oil collection is the delivery of fresh oil—both can be handled by one company.
Working with various restaurant service providers is rarely a one-time event. Services are often planned regularly, such as pest control, trash pickup, and deep cleaning. Oil pickups and grease trap cleaning are also services that should be scheduled frequently to help maintain the commercial kitchen.

Today's restaurant industry continues to experience explosive growth. The aforementioned main restaurant service providers are key players in facilitating industry advancement. A service provider vital to the restaurant industry is Mahoney Environmental, which offers reliable grease trap cleaning, cooking oil pickup, and oil recycling.
Experienced technicians from Mahoney Environmental inspect the restaurant's grease trap to ensure it functions optimally. We service both indoor and outdoor grease traps. Our specialists safely remove the grease and used cooking oil from the commercial kitchen and deliver fresh oil to your restaurant.
Kitchen managers can turn to Mahoney Environmental for cooking oil equipment and design services, too. We design and install automated systems to efficiently handle used cooking oil. Our techs are also available to upgrade or replace an existing cooking oil disposal system.
Mahoney Environmental delivers fresh cooking oil on a pre-determined schedule. Timely cooking oil deliveries ensure the commercial kitchen prepares quality fried foods on a consistent basis. Restaurants also have the option to monitor their oil usage through our convenient online systems.
Choose Mahoney Environmental for your most essential restaurant services, including grease trap cleaning and used cooking oil collection. Via our eco-conscious cooking oil recycling program, we turn used cooking oil into renewable resources and help preserve the environment. Work with us to fulfill your restaurant's needs.