Grease Goes Green 
Grease disposal sounds like a dirty business. One time it was. But today it's at the heart of a major green initiative by the foodservice industry. Used cooking oil is now processed for use in renewable fuels, biodiesel fuel, animal feed and a host of other useful products. And even the water extracted during the recycling process is used as organic fertilizer.
Mahoney Environmental plays a key role in this recycling movement. Mahoney's Mendota Agri-Products division operates a network of processing plants that are unique in being totally devoted to recycling used cooking oil collected from restaurants and turning it into green solutions.
Turning grease green is not simple. It requires a rigorous multi-step process to remove contaminants, moisture, impurities and other extracts. Although complicated, the process is worth it. By controlling for quality at every step in recycling, the cooking fat that goes through Mahoney's plants consistently emerges pure, meeting or exceeding industry standards. Expertise in the recycling process means that not only is the yield of usable oil for green products increased, the nutritional value of a product like animal feed is also enhanced.
Mahoney Environmental manages every step in the recycling process, with the company collecting, transporting and finally processing the used cooking oil into finished, eco-friendly products.
The foodservice industry, from individual restaurants to nationwide chains, is well aware of and committed to the positive effects that recycling used cooking oil has on the environment. By responsible recycling, foodservice operators are reducing the amount of organic waste materials going into landfills and the amount of organic waste discharged into water treatment facilities, easing the burden on overtaxed landfills and water treatment plants.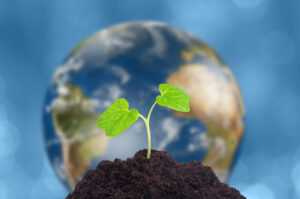 Carbon Footprint 
Recycling dramatically reduces the industry's carbon footprint. For every metric ton of carbon dioxide produced in the operation of recycling plants, more than seven metric tons of carbon dioxide are removed from the environment.
In addition to providing a cleaner environment, recycling used cooking oil is also lowering our nation's energy bill and making us less dependent on foreign fossil oil. Mahoney's plants produce the feedstock for the most economically produced renewable fuel – for autos, trucks, buses and even jets. Existing biodiesel technology yields a gallon of fuel for each 7.6 pounds of fat that is recycled. Not bad for a raw material that started out in a restaurant kitchen.
Grease isn't glamorous. And it's not easy to manage. But as more and more people in the foodservice industry realize, it is definitely going green.