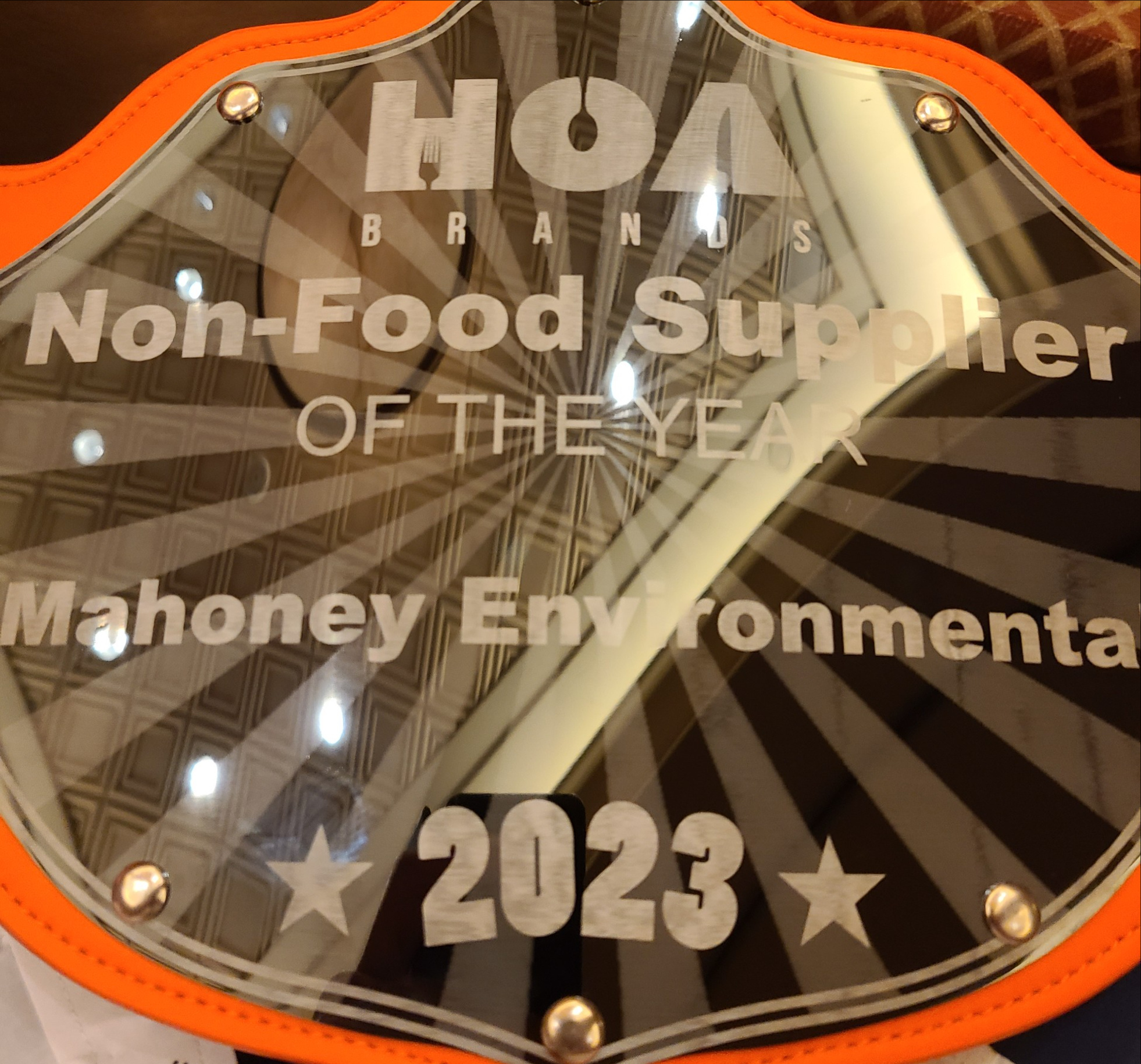 Mahoney Environmental is excited to share that we received the 2023 HOA Brands Non-Food Supplier of the Year. On August 2, 2023, James Fisher, National Account Manager, received the award from Mack Miller, Purchasing Manager – Food & Non-Food, HOA Brands. "Mahoney Environmental collects and recycles our used cooking [oil]:  improving safety, sanitation, and total cost of frying by paying us for the used cooking oil. Mahoney has been a longtime partner with Hooters, and we would like to recognize their support as our Non-Food Supplier of the Year. Mahoney recycles our used cooking oil and turns it into renewable resources," said Mack.
For over 20 years, Mahoney Environmental has done business with HOA Brands. In 2012 we partnered with Hooters Corporate to address and solve used cooking oil theft with our SecureTrack grease container.  As we expanded our national footprint, we won the National Contract in 2015 for all 200 corporate stores across the United States.  We provide UCO Recycling, Grease Trap Service, Equipment, and Preferred Oil (fresh oil delivery) Services for the Chicagoland locations.
"I am very proud that our team of dedicated employees has been recognized with this prestigious award. Our employees are core to our success and continue to exceed our customers' expectations," said Dave Kimball, President & CEO of Mahoney Environmental.
About Mahoney Environmental
Since 1953, Mahoney Environmental® has helped foodservice companies turn used cooking oil and other waste products into useful products. Mahoney controls the entire recycling process—from equipment set-up to collection, to processing, to finished product to capture more value from used oils and pass that added value on to restaurant operators and the environment.
Mahoney Environmental® is a licensed EPA recycler, and all their facilities can recycle nearly 100% of the materials processed. Mahoney's goal is to be the premier back-of-the-house service provider to foodservice operators nationwide — from national and regional chains to independent restaurants to airports throughout the United States. In 2020, Mahoney Environmental was acquired by Neste, the world's leading producer of sustainable aviation fuel and renewable diesel and developing chemical recycling to combat the plastic waste challenge.
Mahoney Environmental Contacts:
Hilary Primack
Marketing Strategist
[email protected], 779-205-9431