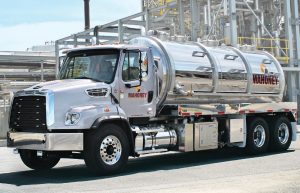 Let's face it, there are plenty of companies out there that offer used cooking oil collection and recycling services.
As I mentioned in a previous article, not all companies that collect and recycle used fryer oil are created equal – some are much better than others and some will save you money while others will cost you.
Luckily, there are a few simple things you, as a restaurant owner, can do to ensure the used oil recycler you'll be working with is a good one.
Proven Track Record – longevity matters, no tow ways about it. If a recycler ha been in business for decades that means they know their stuff. They have had the time to perfect their stuff. You pay them to collect your waste oil, yes. However, you'll also be paying them for their expertise as well.
What I mean is they can determine the best way for your restaurant or food facility to collect and recycle used cooking oil in order to streamline your process. They can even design and build cooking oil storage containers that fit your needs or suggest automating the process of collecting and disposing of oil to reduce time wasted by kitchen workers on those activities.
The right way to think about it is like choosing a business partner than a commodity – service that's all the same regardless of the company that offers it and the best one is the cheapest one. You don't want to be the cheapest restaurant in your area, do you? Then don't choose a waste restaurant oil recycler solely on price.
Referrals from Peers – You know other restaurant owners, do you. Yes, in a sense you are all competitors because you all sell food, but you are also allies because and can work together (to refer business to each other, but more on that in another article on attracting restaurant patrons for free).
So, take advantage of that fact and ask your industry peers for referrals – they will be happy to share their thoughts with you.
Keep in mind that sometimes they will stay with a provider of a service even though they are not happy. Yes, it's possible when the pain of disconnect is too big.
Here's the question you need to ask them to get to the bottom of this – "If you were to choose a company to collect the used oil from your restaurant again would you choose the same service provider"? That's the fastest way to filter out the good from not so good companies out there. If one name keeps coming up again and again you should check them out.
Are They Certified – so, by now you should have a short list of restaurant oil recyclers. Next step is doing some research on them.
Visit their website to learn more about their expertise and services they offer in addition to oil collection and recycling (if any).
Pick up the phone and call them – just talking with them can tell you a lot about the company and their business. Or fill out a form on their website and notice how fast they would respond.
What if your used cooking oil containers are full and you need to schedule a pickup service and can't get them on the phone – you want to know how responsive they are well in advance before you sign up with them to collect the grease from your food establishment.
And finally, check out if they are certified. All oil recyclers must be certified with. If they are not – stay away from them, it's just not worth the hassle especially when there are so many companies that offer oil collection services.
As a responsible restaurant owner or manager you need to keep expenses under control. Collection of used oil from the fryers in the kitchen is an area where you could lose money if you are not careful. That's why choosing the right waste oil collection and recycling company is so important. Take your time now and your bottom line will thank you later. Not to mention your restaurant customers.
If you need a reliable partner for your restaurant's used waste oil from the kitchen, call Mahoney Environmental now.