Most commercial kitchens cannot operate without cooking oil as it is essential to prepare food.  Foodservice establishments that use cooking oil must ensure that they handle the oil properly from the time it arrives until after it is used.  Once the cooking oil has passed its useful life, it is up to foodservice businesses to store the used cooking oil in a proper storage container.  Cooking oil should never be disposed of down the drain as it can cause damage to the plumbing and sewer system, pollute the natural environment, and result in fines for your business.
While foodservice businesses are responsible for storing their used cooking oil, they need to work with a professional that can pickup the cooking oil for recycling.  The amount of used cooking oil will continue to build for a foodservice business, and it helps to work with a professional that can provide regular pickups.  Reliable used cooking oil pickup services will prevent your grease storage tank from becoming full and ensure that the used cooking oil you collect is recycled and made into new products like biofuels.
It is important for foodservice businesses to find the right used cooking oil recycler to work with.  Not all companies that collect and recycle used fryer oil are created equal as some are much more efficient and will save you money while others can cost you.  In this guide, we will cover what to look for in a professional that provides used cooking oil pickup and recycling services.  Working with a dependable oil recycler for regular pickups will help you keep the operations in your kitchen safe and effective.
What are Used Cooking Oil Recycling Services?
Used cooking oil recycling services include the pickup and recycling of used cooking oil by a professional, licensed oil recycler.  Professionals will arrive for cooking oil pickups on a regular schedule based on the capacity of your storage container and the volume of cooking oil used by your establishment.  Cooking oil pickups are often done 24/7 to minimize any interruptions to your business.
The actual pickup of the used cooking oil is contactless as cooking oil professionals can access your tank and transfer the oil to their trucks with no need to interact with your employees.  The recycler then takes the used cooking oil to a facility where it can be recycled and repurposed. Renewable diesel and plastics are made from recycled used cooking oil.
What to Look for in a Used Cooking Oil Recycler
A good partnership with a used cooking oil recycler will greatly benefit your business.  Regular pickups from a dependable company can lower your frying costs, reserve storage space, and help keep your working environment safe.
The following are the 5 main things you should look for in a provider of used cooking oil recycling services:
1. Certification
An easy way to eliminate businesses and make a short list of oil recyclers is to check for their certification.  Many cooking oil recyclers are licensed or certified by the EPA.  Companies offering oil pickup services who are not certified should not be considered.
2. Expertise and Experience
After checking to see if a business is certified or licensed, you should look into their experience with other businesses and their expertise when it comes to streamlining the cooking oil handling and collection process.
A cooking oil recycler should have the expertise to determine the best way for your restaurant or commercial kitchen to collect and recycle your used cooking oil.  Each commercial kitchen is different, and a used cooking oil recycler should be able to create and implement a solution unique to your kitchen.  Some professionals can even provide and install cooking oil handling systems that include direct piping, oil filter machines, and indoor or outdoor used cooking oil storage tanks and advise you on the most effective ways to automate the collection and disposal of the oil.
3. Referrals
As your list of prospective businesses gets shorter, start asking for referrals.  You can ask other restaurant owners who have worked with these companies and reach out to their current clients.  Ask them about the quality and dependability of their services and how likely they are to recommend their services.  A great referral from a restaurant that uses their services is a sign of a reputable company.
4. What Happens to the Oil
While used cooking oil is a waste product to most restaurants, it still has value as it can be recycled and repurposed to renewable diesel, sustainable aviation fuel (SAF), plastics and other products.  There is no standard for how used cooking oil should be recycled or disposed of so different companies may do different things with the oil they collect.  Ask the used cooking oil recyclers what they do with the oil they collect.  If they do recycle used cooking oil for renewable fuel production, you can support this by working with them.
5. Communication
A good oil recycler will be reliable with their pickups and easy to communicate with if there is a problem.  Restaurants are constantly going through cooking oil which causes storage tanks for used cooking oil to fill up fast.  if these tanks are not emptied regularly, they can become too full and indoor storage tanks can overflow and create a dangerous situation in your kitchen.  A reliable cooking oil recycler will help you prevent overflows and other issues by providing regular pickups.
While regularly scheduled oil pickups are important, there may also be times where your business has a surge, and you may fill your used cooking oil storage container faster than normal.  When this happens, you will need to get ahold of the cooking oil recycler to pick up the used oil.  Ask used cooking oil recyclers if they are available to make these kinds of pickups and ask their current clients that you reach out to how well they communicate in these situations.  Knowing you can count on an oil recycler when you need them will save you a lot of stress.
Used Cooking Oil Recycling Services from Mahoney Environmental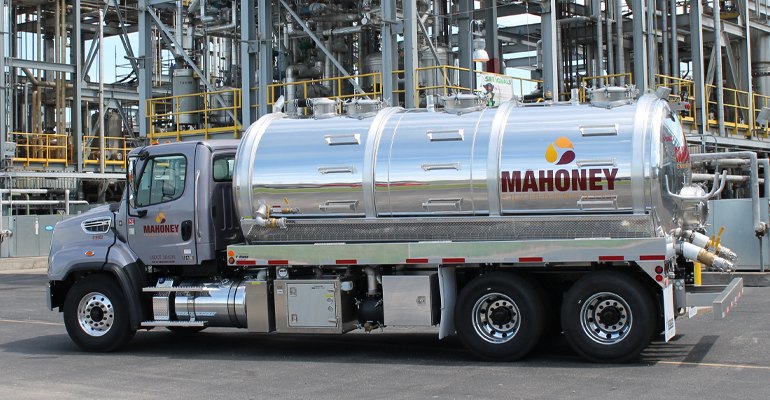 The last important thing to remember when looking for a used cooking oil recycler is that this should be seen as a partnership more than an outsourced service.  A reputable oil recycler should be certified, have the expertise to streamline your process based on your needs, repurpose your oil in an environmentally friendly way, and be available to respond to your needs to prevent emergencies.  By choosing the right used cooking oil recycler, you can lower your frying costs and create a safer working environment.
At Mahoney Environmental, we work closely with foodservice establishments to provide complete cooking oil services that include fresh cooking oil deliveries, used cooking oil pickups, and the installation of cooking oil handling systems and storage.  Our professionals can design and install a cooking oil handling system that works for your specific kitchen to streamline the oil handling process.
Our used cooking oil pickup services are regularly scheduled, and we are also available 24/7 for emergency pickups.  All the used cooking oil we collect is taken to our facility where it is recycled and used to produce renewable fuel and other products.
If you need a reliable partner for your restaurant's used waste oil, call Mahoney Environmental at (800) 892-9392.