Technological ingenuity has paved the way for a new type of commercial kitchen—one more cost-effective and flexible. Cloud kitchens have sprung up around the nation. These commissary kitchens are also sometimes known in the restaurant industry as shared commercial kitchens.
The average cost to start a restaurant ranges from a few thousand dollars to a few million. Owning the restaurant building itself costs on average $425,000 or $3,734 per seat. For most restaurant entrepreneurs, this cost is 15 percent above their anticipated budgets.
Budgets spiral out of control for restaurant entrepreneurs, as they overspend on such things as new equipment to outfit the kitchen, iPads for order taking and accepting payment, splashy sales and marketing campaigns, remodeling and decorating and fancy food products.
The costs to operate a restaurant at a fixed location are high. This is why the latest trend in the restaurant industry are cloud kitchens. This inventive concept has been around a while but has taken off with the advent of recent technology, like food delivery apps on smartphones.
The latest terms (upon which the restaurant industry has yet to agree) are interchangeable. Cloud kitchens may at times be referred to as ghost kitchens, shared kitchens, or virtual kitchens. All of the terms refer to a style of delivery-only food operations.
Consumers have seen this type of delivery-only option available for decades (think Chinese takeout or pizza delivery). But with consumer preferences changing and new technology evolving, delivery-only models have become the new mainstay. Virtual kitchens offer more advantages than brick-and-mortar restaurants.
What are cloud kitchens?
Cloud kitchens may be defined as centralized commercial food production facilities, where restaurants rent space in order to produce delivery-only menu items. Anywhere from one or two to a few dozen restaurants may occupy a cloud kitchen at any given time.
Versatile and economical, cloud kitchens may host one restaurant that runs multiple brands, or different restaurants may be at work preparing delivery-only food. Often, cloud kitchens have physical locations that are way out of the center of town in industrial complexes.
Inside these cloud kitchens, which may be likened to enormous warehouses, are several stations. Each of these mini restaurants features stainless steel prep tables, stoves, ovens, sinks and hood vents—a gastronomic sight that mimics the typical traditional brick-and-mortar restaurant.
Located directly outside the cloud kitchens are driver parking lots, driver waiting areas and check-in stations. Waiting areas may even feature screens that monitor order times. These areas are designed to deliver customer-ordered foods as efficiently and quickly as possible.
What allows cloud kitchens to succeed is technology. Food delivery apps retain data about food habits. The data is used to determine the types of foods most popular in a particular neighborhood or time frame. Cloud kitchens near colleges may see orders for hot wings around 11 PM, for example.
With the rise of technology, restaurants are taking their businesses to new levels. Brick-and-mortar restaurants are likely to add delivery-only brands to their current in-house offerings. Restaurants may stick to their normal cuisine or offer an entirely new menu specifically for delivery.
What are features of shared kitchens?
Shared commercial kitchens may be used by a variety of restaurateurs, from event caterers to wholesale bakers to packaged food sellers. These facilities are solely intended for food production, so consumers will not have access to dining accommodations, like seating or customer parking.
Caterers, for instance, benefit from the cost-effectiveness of shared kitchens. These professionals prepare food primarily on weekends, so renting out a shared kitchen during that time (rather than paying a full month's rent when parts of the month are left unused) makes financial sense.
The membership fee to use the shared kitchen covers all the essentials. Shared kitchens come equipped with appliances and major kitchen tools, so members are not obligated to buy these items. The experience of using a shared kitchen is convenient and simplified for restaurant entrepreneurs.
Plus, all shared kitchens meet state and local regulations for safety and cleanliness. The commercial space is licensed, certified, and equipped for largescale food production. Entrepreneurs have the freedom to rent the space for a few hours or on fixed terms, such as several months.
In order for a shared kitchen to operate successfully, a high demand for such facilities should exist; namely, several food vendors in the area would make it worthwhile to operate a shared kitchen. As food delivery is on the rise, restaurateurs benefit from the new trend in cloud kitchens.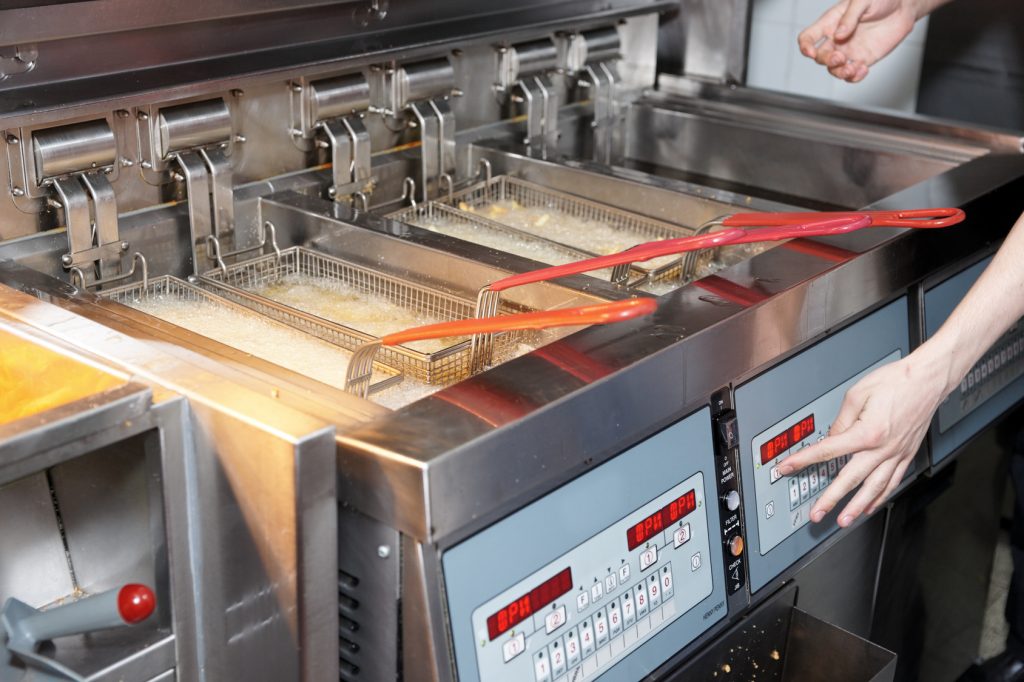 Whether you operate as a delivery-only restaurateur in a cloud kitchen or a traditional brick-and-mortar one, your kitchen space requires regular maintenance. At Mahoney Environmental, we provide restaurant oil recycling and grease trap cleaning services that are necessary to keep your restaurant running smoothly.
Mahoney Environmental provides reliable cooking oil collection and recycling to commercial kitchens of all sizes, including large restaurants and small food courts. We also safely dispose of or recycle used cooking oil. Regularly scheduled oil collection pickups will help prevent potential safety issues.
Our cooking oil recycling program turns used cooking oil into renewable resources, such as animal feed and biofuel. Our specialists will customize a recycling program to fits your needs, as well as those of your employees, customers, and the environment.
We also provide essential grease trap cleaning and maintenance services. Our trained technicians inspect your grease traps to ensure they operate functionally. Mahoney Environmental professionals are also available to design and install cooking oil equipment, such as automated systems and bulk containers.
Your cloud kitchen will always be ready for the next delivery-only customer when you schedule fresh cooking oil deliveries from Mahoney Environmental. To help you use your cooking oil more efficiently, our team is also available to monitor your oil usage online.
Largescale food production relies on well-operated commercial kitchens, whether in a cloud kitchen or traditional restaurant. Mahoney Environmental services ensure your commercial kitchen is top notch. Call us for cooking oil collection and delivery or to upgrade your cooking oil disposal system.