Our Trucks Make a Difference
Our commitment to the environment and the removal of used cooking oil and grease from the waste stream is exemplified by the fleet we utilize to perform that task. Our low carbon emission trucks support sustainability at every turn.
World Class Fleet
Our world class fleet not only ensures reliable service to our customers, it also supports our ultimate goal of environmental responsibility. We strive to support the recycling efforts of our customers by operating trucks that lower our carbon footprint.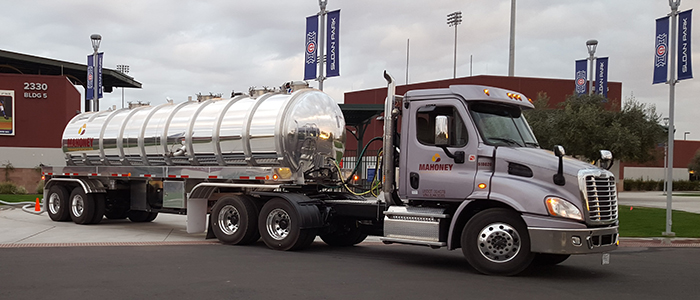 Our lightweight, high capacity combinations give Mahoney the ability to service more customers in a shorter timeframe. This fleet was built to hold more product and improve route efficiency.
In addition, these trucks are easier on the environment with engines from Detroit Diesel supporting the latest 2017 Greenhouse Gas (GHG17) and 2016 OBD (OBD16) compliance measures. Noise levels have been reduced by over 40% during the collection process by equipping the trucks with an NVE Tri-lobe Blower.
Beyond noise reduction, the blower brings a greater eco-friendly advantage by overcoming the oil consumption, that is typical of older technology vacuum pumps, and eliminates oil vapor emissions. To back up our commitment, we operate our fleet with clean burning Bio-diesel, a renewable fuel produced from the very product we recycle.
We are proud of our investment that continuously upgrades our truck fleet and supports our commitment to our customers and the environment.